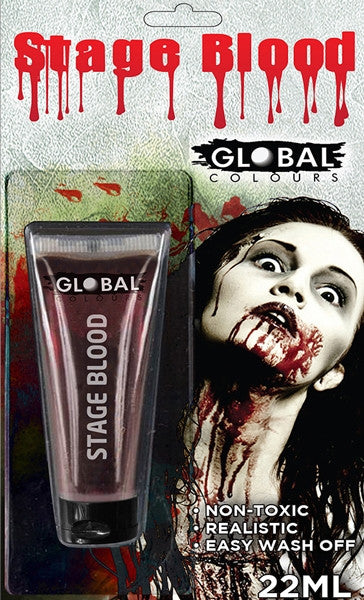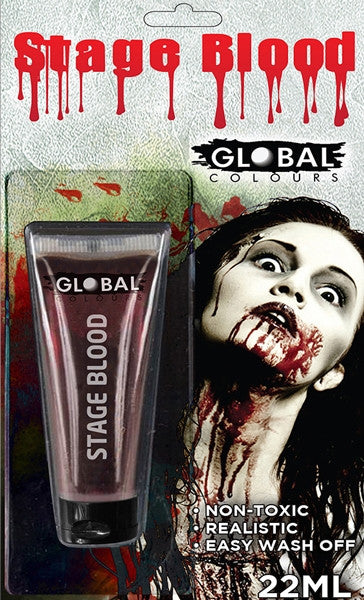 On Sale
Global Colours STAGE BLOOD 22ML
GLOBAL COLOURS is a world leader, famous for the quality and safety of their water-based products. One of the most appreciated cosmetic lines offered by us is our BodyArt range, used by professional artists and on movie sets worldwide
There are few things you will keep for your entire life. Your skin however is definitely one of them. This is a fact we kept in mind when we formulated our range of Global Colours BodyArt. The ease with which you can apply the bright silky smooth colours… and wash them o is no accident.
Our cosmetic grade formula was developed, with the possibility in mind, that some performance artists may wear our BodyArt all over, all day, nearly every day. And we made sure they could do just that all their long and healthy life.
There's a lot we could say about our exceptional BodyArt but hey, why waste words, when that will be self evident the next time you paint skin using Global BodyArt.
Ideal for make-up artists, theatre and performance, sports team supporters, parties for children, festivals and fairs.
Global Colours BodyArt was the official face and body paint for the Opening and Closing ceremonies of the Sydney Olympic Games.
BodyArt is suitable for all age groups and a wide range of uses. This premium body paint has a smooth 'soft paste' texture which allows it to be used directly from the jar. It dries to a soft velvety finish.
AS USED BY
• MAD MAX MOVIE • AUSTRALIA MOVIE
• GHOST RIDER MOVIE • BANGARA DANCE
• SYDNEY THEATRE COMPANY • SCOOBY DOO
Fast Facts
Non Staining
Dilute for Airbrush
Water based Cosmetic Grade
Strong Pigmented
100% Non-Toxic Hypoallergenic
Compliant with EU and FDA Toy and Cosmetics principles.